Bing recently came out with the next installation of its Ads Keyword Planner tool. The new version is equipped with four new features that help smarter connections achieve more with Bing Ads. This updated version of the Ads Keywords Planner tool means
New Competitive Insights & Benchmarking,
Customizable Ad Group & Keyword Bids,
A New Source for Recommended Keywords and
24 months' Time-bound Customization for Keyword Search Volume.

In order to get maximum out of this new update, all you need to do is insert your landing page URL into the Search bar and the Keyword Planner will suggest some keywords on the basis of the content on your page.
The revamped version of the tool comes with the ability to track in-demand Seasonal Trends and Hot Keywords spanning a period of past 24 months; which is an extension to its previous tracking ability of just 12 months. This means you'll get more value that generates more ROI for the company.
In addition to that, the update accompanies two new competitor impression share insights:
Compare to Competitor Domains:- Besides tracking your account's relative ad impression share for suggestive keywords, with this new feature you can even compare those impression shares with your competitor's domain. This feature lends you with the power to add high volume keywords to your low performing share units. Apart from that, you can also evaluate the average search volume on a monthly basis, track your high/low/medium competitive benchmarks, make note of suggested bids and count your overall ad impression share units.
Compare to Market Leader Domains:- This feature gives you the ability to compare your average ad impression share count, for a specific set of suggestive keywords, against the average share of top five market leaders.
Lastly, this updated feature gives you the ability to change the bids at ad group and keyword levels, which in turn gives you an idea of how the traffic estimate changes on the basis of higher or lower Max CPCs. In order to adjust all your bids to the same percentage level, you need to click on the percentage bar in your weekly estimates graph.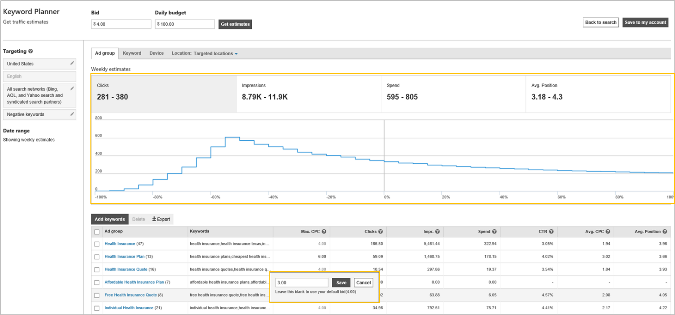 Expect all of this and much more as you sign-up and log-in to your account to start using the v2 of the Ads Keyword Planner tool. But for the moment, these updates are available only for US Advertisers.
Planning to run an Ad Campaign? You have landed at the right place. We are certified as Google Partner and Bing Ads Accredited Professional. Check out our PPC Packages starting from $239 per month.