In an effort to give Google a run for its money, Facebook is now officially expanding its advertising reach through Audience Network (FAN), by including mobile websites other than app support.
Earlier this month, the social media giant broke the news that it was beta testing to expand its year old in-app advertising network. And to bring it to reality, it's beta testing the effectiveness of FAN on mobile domains of global publishers such as Hearst, Elite Daily, USA Today Sports Media Group and Time Inc.
This gives Facebook's 2.5 million advertisers access to mobile web native ad units through FAN, which the company says is already accounting for 80% hits on a regular basis. Besides catering to its multi-image carousel advertisers, it is currently helping out publishers conceive the native version of standard ad formats.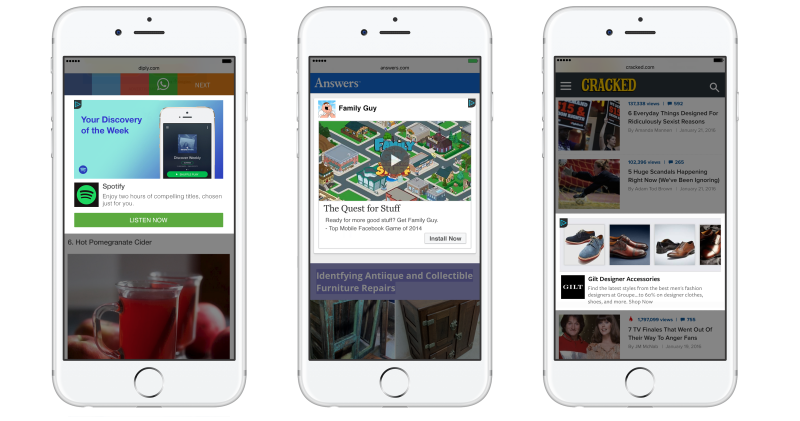 Not only that, Facebook is also making it easier for mobile advertisers to be a part of its expanding FAN. To join Facebook's FAN, just add an HTML tag sans SDK integration and make it live on the same day. Mobile advertisers interested in joining FAN's beta version can click here for more details.
By bringing FAN into the mobile domain, Facebook is also giving Google AdSense a run for its money. Facebook wants to achieve the same results by venturing FAN into the mobile domain as what Google has been doing through its AdSense network. Through FAN, advertisers can buy native ad units along with regular ad space, which can be more handy than Google's high on popularity rating AdSense's text and banner ad support. Besides supporting native ads and banners, advertisers can even leverage Facebook's FAN domain for interstitial ad units.
As far as statistics are concerned, nearly 78% of Facebook's $4.29 billion ad revenue came through mobile ads in Q3, 2015. And based on its Q4 performance, Facebook's FAN had hit a billion dollar mark.
You can check out our Social Media packages to leverage Facebook marketing for your business. You can also write to us at sales@ebrandz.com or call 1-888-545-0616 Toll-Free.