As the countdown for US Presidential Election 2016 picks up, Google is making it easier for you to search for information about the Republican and Democratic Party candidates running for the post.
To help you know more about your favorite candidate, Google has recently introduced Candidate Cards – an experimental feature that will carry candidates' messages in a horizontal carousel in related Google search results.
The related search module is somewhat similar, but more flexible as compared to Twitter posts that currently appear in Google's search results for US candidate related searches. Some of the inclusions are as mentioned below
It will enable candidates to broadcast their message within 14,400 character limit
It will also enable candidates to include up to 10 images or videos for each post.
As more voters turn to the web to get first-hand information about their favorite candidates, Google through its blog post is trying to capitalize on the political search interest that spikes to 440% on an average, during the live televised broadcasts of the debates. Google's Candidate Cards will provide a platform to the candidates to convey their messages to voters and control the search related content, being displayed about them in related Google searches.
As mentioned above, Google's Candidate Search Cards will display a text message along with images and videos about candidates running for the Presidential Post. Google will incorporate this feature in its searches for upcoming TV broadcasts of Republican debate on Jan 28, 2016, to be followed by elections in November, 2016.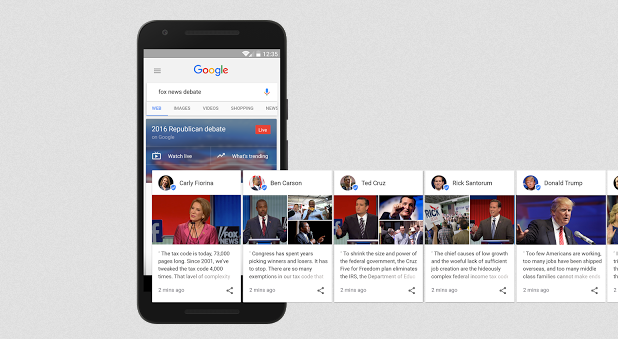 Image Source: https://googleblog.blogspot.in/2016/01/republican-debate-presidential-politics.html
The image above clearly depicts how Google's Candidate Search Cards will be displayed on a mobile screen. In the absence of desktop support, these mobile size cards will appear in desktop searches as well.
Much like the Knowledge Graph results, Google will display the new cards when its search bot figures out whether the user wants to hear from the candidates or knows about them.
As such these cards will not act as Twitter's replacement in searches, but through Candidate Search Cards Google is trying to expand its search horizon beyond politics to commerce and other genres.
For more info, write to us at sales@ebrandz.com.