BrightLocal recently conducted the "Local Clicks & Calls Survey". The motto was to identify which online channel provides maximum Return on Investment (ROI), generates the most traffic, phone calls and quality leads for local businesses. It also helped in identifying the time and effort required for each channel. The survey was conducted between 477 respondents. Respondents include Search agencies (38%), small business owners (28%), search consultants (26%) and web designers (8%). This survey provides comprehensive knowledge and insights about the best digital channel for local businesses.
Since Google Analytics can't track offline conversions, this survey becomes pre-eminent. It will help Business owners and search consultants to make a well-informed decision on where to invest their valuable time, money and efforts.
In terms of quality leads, local & organic search reigns supreme.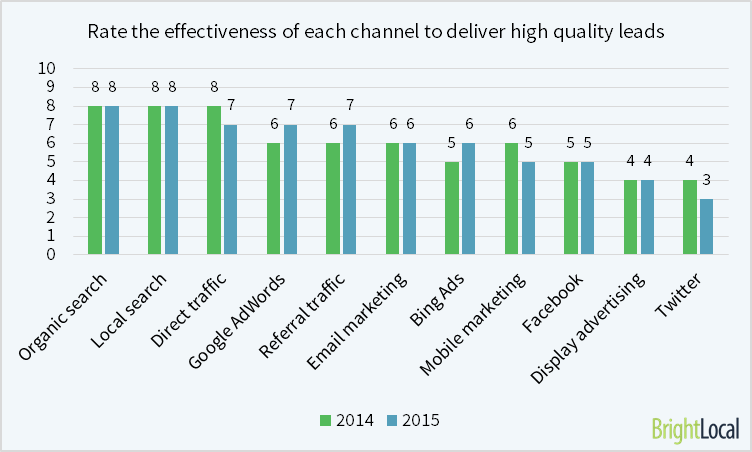 Analysis:
In terms of providing quality leads, organic and local search reigns supreme. The results are the same as 2014 survey. Both the channels have the privilege of luring customers exactly when they are searching for products or services. These customers are most likely in the middle or end of the buying funnel which escalates the chances of conversion.
Direct traffic also provides High-quality leads. It is because most of them are customers who are already aware of the brand or has made any purchase before. The trust factor is strong in this one, so the quality of leads remains high and so does the conversion rate.
Google AdWords has managed to increase the quality of the leads it provides as compared to 2014. The precise targeting option and complete control with more predictable returns have helped Google AdWords to achieve this decent appreciation.
Social Media (Facebook, Twitter etc.) is falling flat in terms of providing High-quality leads. The business owners and consultants who spend a decent amount of time, energy and money in social media optimization are not seeing any good returns. However, Social media is still most effective for branding and promotional purpose.
Local & organic search also provides the best ROI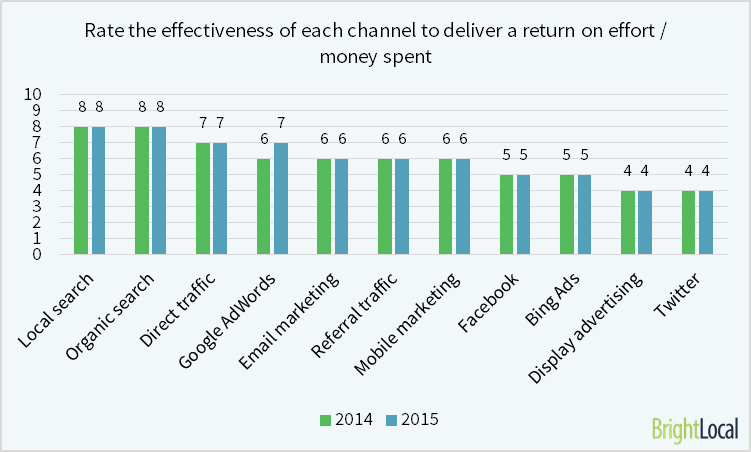 Analysis:
Local & organic search not only generates the highest quality leads but also provides maximum Return on Investment (ROI). By ROI, we not only mean return on financial investment but also the time, energy and efforts business owners, marketers and search consultants have invested. However, achieving notable and enduring visibility in both Local & Organic search takes money and time, but it's totally worth it.
Social channels failed in this parameter too. They have emerged as a really bad option to generate high-quality leads and providing ROI. They are only good in brand building and establishing communication between customers and the company.
Local search generates the most traffic
Analysis:
Once again, Local and organic search reigns supreme by contributing 40% of the overall website traffic. Surprisingly Local search is slightly or to be more specific 6% ahead of Organic search. Whereas direct traffic only accounts to 10% of site traffic to local businesses and Twitter generates the lowest traffic.
In very close competition with organic search, local search came out as an ultimate winner. The local search has provided the local business owners an opportunity to compete with the giants. And in a survey conducted among marketers, 34 % agreed to go with the local search if they could only keep one.
The marketers, experts, and our personal opinions are the same that Organic and Local search is the best fit for small and medium business owners. If you are already relishing the advantage, kudos to you. But if you're not, we can be of some assistance. We have more than 12 years of experience and have so far helped 14000+ clients in generating high-quality leads.
Simply email us at sales@ebrandz.com or Call 1-888-545-0616 (Toll-Free) and let our reps assist you. You can also ask for a FREE SEO Audit worth $200 of your website.