Today, we'll talk about a perfect PPC campaign that just went wrong. After investing a considerable amount of CTC time, the right budget was allotted to it. Then after due procedure right keywords were selected to ensure that the prospective click-throughs were landed on the right landing pages so that finally right results show up in the form conversions. But when you realize that the conversions aren't buying then it all comes crashing down like the stock market at the Wall Street. So, there's something right that really went wrong.
Though your clickthroughs filled out all the forms and receive their white paper or e-book. But there's when suddenly they shoo away from your landing page and look uninterested in your product or services by not responding to your mailers or don't answer your calls. So, what went wrong in this perfectly designed right set up? Well, this is where companies spending a large sum on their PPC campaign go blank. As they don't know how to possibly convert the conversions into your valuable customers. Here are some right tips that can possibly turn the dice rolling in your favor.
Just Form Fills is not Right Conversion Metric
It was a long way back considered to be a good omen that if your clickthroughs are filling up the forms then they may also end up signing. But there lay some unknown reasons that your targeted conversion metrics for PPC lead generation campaigns aren't taking that next step forward. That's where it goes all wrong since with changing times your click through have become a bit smarter than you otherwise may think.
So, you end up dishing out back to back e-mailers to your prospective click through user without getting any response, whatsoever. But you can do well to remember the fact that an average click through user has to deal with 416 commercial email marketing (don't forget those personal ones, too) in a month. Add to that, you only have 15 -20 seconds to form an impression on your e-mail recipient.
The second possible reason may be the fact that your click throughs may be raring to go when filling up the forms. So, when they do get your mailer they seem disinterested in your product or services. You were unable to communicate with your click through user in his moment of impulse just when he was filling up the forms.
Also, around 80% of people never leave their house without their smartphones and spend almost 15 hours on a weekly basis doing R&D about the company's offerings. So, if you are not Mobilegeddon ready then your prospective click-through may experience a possible communication break while filling up the forms to complete the signing up formality.
And if this is the reason behind the fallout, then you can optimize your PPC campaign for the inbound calls.
HOW TO BETTER OPTIMIZE YOUR PPC CAMPAIGN
According to a study, the inbound phone calls are a great ROI to the company in getting touch with their prospective clients. In fact, they are 5 – 10 times moreproductive and the process below isn't that difficult to follow.
1) Use Google AdWords Call Extensions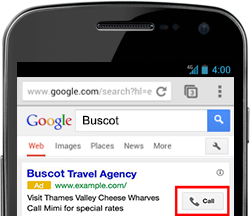 Make good use of Google's SERP click to call extension tabs to your maximum advantage by ensuring that your phone numbers are accurate and functioning properly. If you have advertised yourself on Google AdWords platform, just a click (from the user) will put you in direct communication to close your prospective customer. In that sense, these extensions further increase CTR ratio. In fact, a recent study confirms CTR increase of 221%, when these call extensions are used properly. You can even manage the settings for your ad extensions as per your preference. For further details, check this out – How To Setup Click to Call Extensions Call.
2) Enable your Landing Page with Click-To-Call function

It may not be a wise move to use these call extensions tabs while your click-through is on your landing page. In that scenario, your user may be looking to get further educated on the subject and the best you can do is to land him on your call extension enabled landing page via your marketing page. So, that it becomes easier for your click through the user to call you directly from your landing page. This level of programming can be achieved through proper HTML coding.
3) Emphasize on Calling in your Call-To-Actions

Inform the user of what you want them to do when they come visiting your site's landing page. If you want them to call you then ensure that you are open to provide 24×7 free consultation service to your click through users. You can also attach a bit of urgency by adding Call Now for further assistance beside your call extensions. At the end of the day, you only have those 5-10 precious minutes to make your user act on his impulse by communicating him in just the right way so that your next PPC campaign may not end up disappointing you.
So, if you are in the process of launching your next PPC campaign and are looking forward to some valuable feedback on your campaign then do get in touch with us via Email at sales@ebrandz.com or Call 1-888-545-0616 Toll-Free. And do not forget to check out our Pay Per Click Packages.