According to media reports last week, Google had said that it will not offer any SEO certified services to the businesses. But this week, Google did a U-turn on its previous weeks stand by announcing that it does offer certified SEO services only through its associated network of SEO partners.
This error was spotted by Aaron Wall, who posted it on his Twitter timeline.
Google now recommends getting your #SEO from their certified partners. https://t.co/GRLhBpMS6G pic.twitter.com/G8pg3rmQNA

— aaron wall (@aaronwall) February 18, 2016
A similar mistake even appears on the Google's Campaign page, which sported a section that reads "STAND OUT WITH SEARCH" that informs businesses to hire Google- certified SEOs, which can boost your SEO campaign by attracting more traffic to your site.
Here's how the snap with an error reads as below.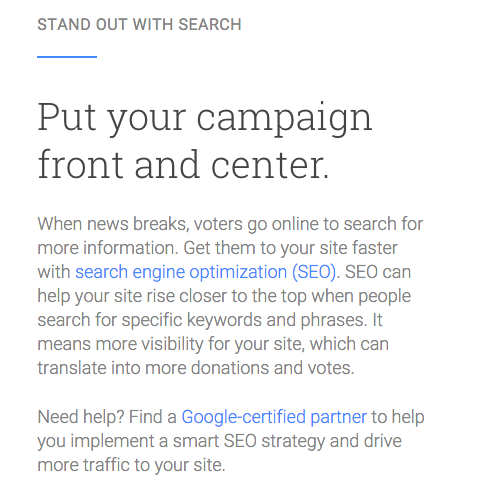 From the above-listed information, it's quite evident that the person who is responsible for coming out with such a statement isn't aware of Google's SEO based policies and knows nothing about Google's certified group of partners. While Google does offer certified services related to AdWords, Analytics, YouTube and DoubleClick but it doesn't offer any certified SEO assistance as such.
And we all know Google keeps committing errors like these, as this Twitter profile suggests.
Well, this serves as a perfect example of a well-known saying that goes like "half knowledge is a dangerous thing." And you don't want any of these half educated professionals to help you out with your SEO campaign in 2016 … Right? Just hire our tried and trusted SEO services and check out our exciting offers. For further assistance, you can reach out to us at our email id sales@ebrandz.com or just ring the bell on 1-888-545-0616 (Toll-Free).