In last couple of years, there have been some reports doing rounds in media circles, that there are quite a few businesses who have issues with their Google Search listings being shown in searches as "Permanently Closed".
This indicates that a business has either closed down or moved their business location to a new place. In case, relocating businesses fail to update their NAP (Name, Address and Phone Number) citations in the Google My Business search listings then the relevant Google searches serve a big, red "Permanently Closed" notice to the searchers; instead of showing their new business address.
The existing issue concerns many such businesses and Google acknowledges this fact. It is, in fact, trying to fix the issue through Google My Business support.
Hardly reported in media circles, the solution to the existing issue that concerns most businesses lies in the Google Map based feature called "Moved".
Why does the problem arise in the first place?
The problem arises when a business relocates to a new place without updating the new business address to its Google My Business Page. Google on its part, instructs the moving business to update its new business location as that will enable it to be in touch with its business contacts, photos, reviews, followers and other business related information.
More often than not, businesses are hardly aware or forget to update their business listings on Google's My Business dashboard. As a result, many such relocated businesses forget to claim their business listings and often end up being listed as Closed, since they don't following the Map Maker's rule that informs businesses to close listings before relocating.
How you can fix it
As a business owner, if you're thinking of relocating or have relocated and are facing the same problem, then just follow these simple steps to successfully update Google with your new search listings. First and foremost, contact Google My Business Team through their Twitter handle rather than contacting them over the phone. After connecting with them via Twitter, ask them to mark your old business listing status as "Moved" which is not the same as "Permanently Closed" business status.
There are many such businesses that have little or no information about this existing business status, which doesn't have any reference either in Google My Business support center. It is available only on Google Maps and not on the Map Maker help page.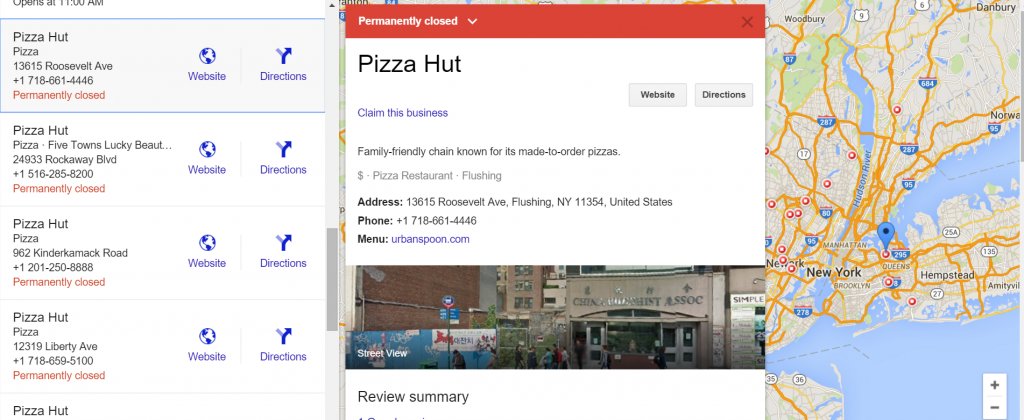 Changes that occur while Google updates your listing as Moved
So, now, you know how to mark your business listing as "Moved". After a couple of days, you'll notice the below changes once Google updates your business listing.
This will erase your Google Search and Google Maps listings completely, making it impossible to find it in the searches.
The removal of your listing will also terminate the "Permanently Closed" message, making it completely disappear from Google searches.
Google uses a 302 HTTP status code to set up Google Maps URL to display your old business location. Your online visitor will be redirected to the new business location when he stumbles upon the Maps URL related to the old business location.
As a part of the moving process, your old business reviews from the closed business listings are redirected to your new business listings. Just double check the entire process if that doesn't happen.
It is impossible to track your previous Map Maker business listings without making use of the direct URL that uses your business related CID number. Hence, your previous business listing will sport a "Permanently Closed" status instead of displaying the "Moved" status on the Map Maker.
This is where Google is trying to fix the issue that will enable a business to edit through Google Maps. If that happens, then it will save businesses a lot of time which gets used up while trying to reach Google My Business support center to get things done.
As seen in the screenshot below, Google Maps sports a "Moved" button that comes under "Suggest an Edit" section, which enables the user to update their new business information.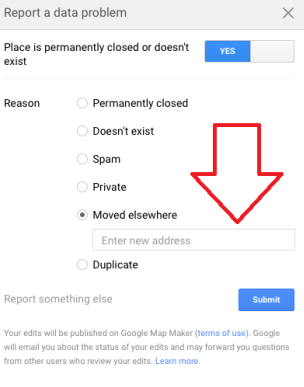 As mentioned above, you may not accomplish your task by simply hitting the "Moved elsewhere" button, since that may trigger the "Permanently closed" label to completely disappear from the searches. And if you do press the button, then it will only display the little red banner with the "Relocated" message as seen in the image below.
Here you can see, your Google Maps and search result listings now sport a massive red label marked as "Closed".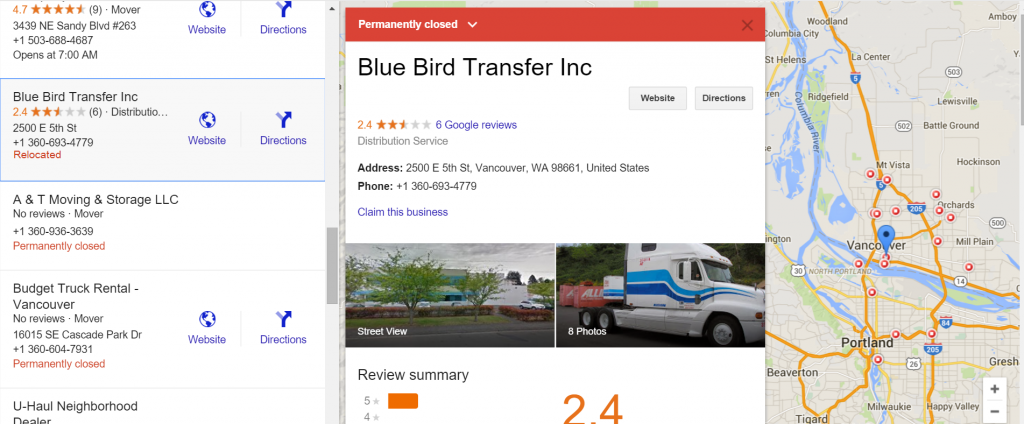 This is how you need to initiate the process which will hopefully help a lot of struggling businesses that are finding it difficult to make ends meet.
If you still need any help, we can be of assistance. Just write to us at sales@ebrandz.com and our reps will be in touch with you within 24 business hours.