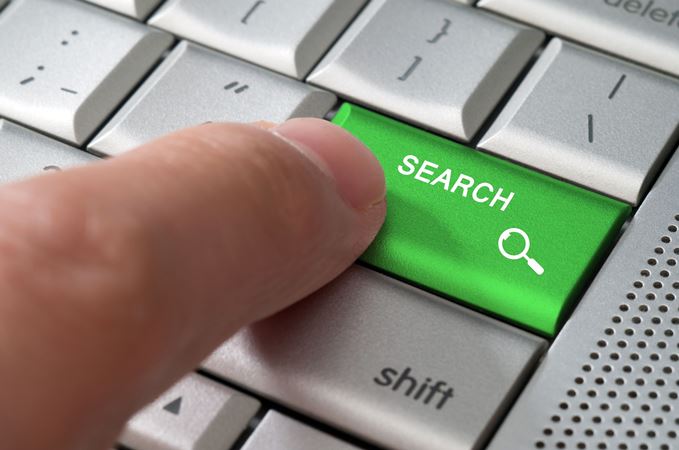 Your internal search function draws in terms typed in by customers. And these terms certainly do turn out to be valuable, presenting useful data.
Site search can be improved with the data that you receive, as it helps you understand user behaviour. Let us now look at how this data can be put to the best of uses.
SITE SEARCH NOMENCLATURE ASSESSMENT
To give users a clearer picture into the product & your services, a very well-known site search term must be put to use.
Search results could be optimized to ensure that the stocked products are prominently displayed.
HELP BUYERS & SALES TEAMS USE THE DATA
Buyers who keep a track of changing demands and judge sites for products that aren't currently stocked, can make the most of the data available on top site searches.
Users can get a better picture of the most popular products if they could perceive the top search terms. Merchandisers, in the same way, could also benefit from this.
For instance, Samsung is the most popular term when one looks for a mobile phone. A person who sells mobile phones would then have a better idea on the product he should primarily showcase and the category page on which he should do it. All thanks to the data!
DETECT DISAPPOINTING SITE SEARCH RESULTS
A disappointing site search result can mean one of two things. It could either mean no return of results for searches or it could mean too many results.
Too many results on a single page can leave a customer all confused, being unable to point out the preferential product.
In order to avoid this, filtration is a good option. Or you could also place the top rated or best-selling products on top of the list.
ADMINISTER KEYWORDS AS PER TIME/OCCASION
Searches swing as per festivities and other trends. Hence, we need to keep an eye on people's requirements to gain competitive advantage. You could take the scenario during Christmas. During this time people go looking for Christmas gifts and other festive products. And this shopping stance makes it quite obvious for retailers and shoppers to place the right products on the desk at the right time. PPC campaigns could also benefit them.
ARE USERS CLICKING ON THE FIRST PAGE OR NOT?
The top results on the first page should witness the highest number of clicks. If things ain't working in this manner, it only signals at irrelevancy in the results.
CLICK INTENSITY
This shows how well the site search results fared and the extent to which the visitors were engaged.
For example: If you find users clicking through pages, going all the way to page 5 or 6 of your site search results, would it mean that finding the right item isn't easy?
USAGE OF SITE SEARCH
Having a specific benchmark is necessary if you want to compare & identify possible issues. And what needs to be compared is the percentage of visitors that use your site search feature; it varies for different sites.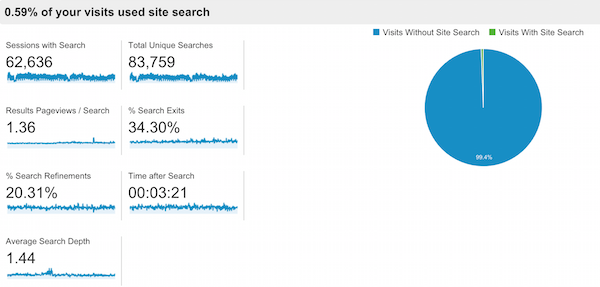 Prominence is a key factor if it showcases a low percentage of site search usage. Either ways, too much of usage could also reflect second rate navigation.
Cast your eyes on the above image showcasing the usage of ClickZ's site search with a low percentage. Publishers seem to perceive it in an even lower standard.
IMPORTANCE OF KEYWORDS
Here we're talking about perceiving keyword values from search boxes. PPC strategies can be formed around those converted most effectively. Other marketing teams can also benefit from it, as it provides added focus for campaign planning.
TO NOTIFY SEO AND PPC
The terms that you target via SEO or PPC can vary from the keywords that are used on your site by people. In such cases, you could easily find a lot more relevant terms to target by analysing site search data.
Keywords used inside your website and on search engines could also be very much the same.
And it's not just your idea of what people look for that reflect how & what they actually search for. The language, or the dialect, also determine the search statistics.
DO CUSTOMERS GET WHAT THEY WANT?
'Search Exit' is a factor that basically determines the relevance of a site search. This is calculated by assessing users who leave the site after viewing the site search results.
IN SHORT
The effectiveness of your site search function can change to a great degree and can be evident. This would take place if you thoroughly understand and analyse the search activities going on within your website.
SEO and PPC are the other marketing methods that could be optimized with the help of this.
Let us also keep looking out for other things apart from these mentioned here. For more information, email us at sales@ebrandz.com or call 1-888-545-0616 (Toll-Free).