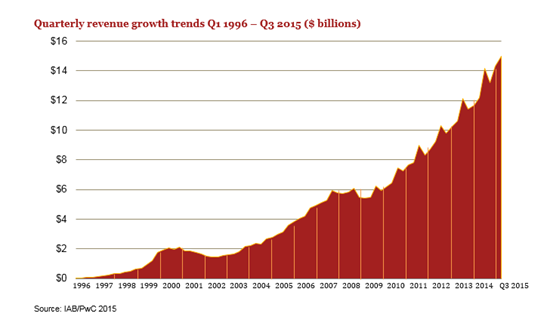 Digital Advertising platforms, over the past few years, have completely redefined the global marketing scenario. Looking at the current marketing trend, advertisers prefer to advertise their products/services more on social networking sites such as Facebook, Twitter, LinkedIn, Pinterest, etc. as compared to the traditional broadcasting mediums such as TV and print advertising. The only reason behind this is the growing number of internet users across the globe, who like to spend more time in their own virtual social community; much to the delight of modern-day marketers.
This is the reason why internet advertising revenues are growing at a rapid rate. According to the latest IAB and PwC reports, US Digital Advertising Revenues in Q3 2015 hit a $15 billion mark, toppling the Q2 2015 revenue mark of $14.3 billion by 5%.
This 5% growth rate from the previous revenue mark takes the overall tally to 23% of surge from last year's third quarter's $12.2 billion mark.
Sherrill Mane, Senior Vice President, Research, Analytics, and Measurement, IAB says that
"Brands and agencies are focusing ever more attention on interactive screens, following consumers as they flock to digital platforms to be entertained, engaged and informed."
In fact, the IAB had previously reported 19% growth rate in digital ad revenues in the first half of 2015.
Additionally, a recent study by IPG's Magna Global forecasts that if the current marketing trend continues then the US's digital advertising spend will completely overtake the television spend in the near future.
For more information, contact us at sales@ebrandz.com or dial 1-888-545-0616 (Toll-Free) for assistance.